Do you have a heavy resource website/application? If so, you need to opt for a web hosting service provider that offers top-speed performance to your website.
There are hundreds of web hosting providers in the industry, but the task is to find the right fit for all your requirements. Along with the web hosting provider you choose, it is also essential to select the plan that best fits the budget and satisfies the website requirements.
Dedicated hosting is the best option that can handle the increasing traffic on your website. Also, it has the power to manage the heaviest workloads.
Amidst the plenty of web hosting providers in the industry, MilesWeb is one of the best dedicated server hosting providers. They offer state-of-the-art dedicated hosting at affordable pricing. Also, you get all the high-powered features for your heavy resource website/applications.
Here in this article, I will give you their dedicated hosting review. It will help you know if it is the right fit for your needs. Before we start with the review, let me explain to you dedicated server hosting in short.
Dedicated Server Hosting 
Dedicated servers is about having complete control over your server. Meaning, you can also install applications of your choice, do the server modifications. So, there are no chances of other websites or users affecting your server performance. When you opt for dedicated server hosting, you get a lot of storage and power if you are trying to build an enterprise website.
Or else, you will not need much storage for small websites. If you are purchasing a server that has multi-cores, then Intel CPU processors are what you need.
When you opt for MilesWeb's cheap linux dedicated server hosting, the server has state-of-the-art infrastructure with powerful hardware capable of handling resource-heavy websites/applications.
How is the Working of a Dedicated Server? 
When the hosting provider leases you a dedicated server, it is all in your hands for management. It is custom configured to your application for eg. website, database, web hosting, databases. And it gives you better performance.
If you have a rapidly growing business or website, a dedicated server is a good-to-go option.
If you are looking for more power and control of your hosting environment, dedicated server hosting is an ideal option for you.
Why Choose a Dedicated Server? 
Reliability: When you opt for dedicated server hosting, you get a high level of performance dedicated to your website/application.
Security: The security of a dedicated server is out of the box.
Customization: A dedicated server is customizable according to your requirements.
Why Go for MilesWeb's Dedicated Server? 
Bare Metal Dedicated Server 
Get the full processing power with the single-tenant bare metal server. It gives you complete control over the server. The dedicated servers are powerful and fast with enterprise-grade technology. The servers have built-in SSD storage drives that have Intel CPU processors incorporated within. They offer the best platform to host large-scale enterprises and organizations.
Unlimited Website Hosting 
There is no control over the number of websites you want to host. You also have the freedom to move all your websites from shared, reseller hosting, VPS hosting to a dedicated server.
High-Performance Guaranteed 
No sharing of server resources takes place in dedicated server hosting. So other website traffic will not affect your website and, you will get top-notch performance to your website/application.
Full Root SSH Access 
MilesWeb provides full root access with each dedicated server hosting plan. You have the right to install web applications of your choice on the server.
Guaranteed Security 
When it comes to the security of a dedicated server, it is very high. You get a physically isolated environment with dedicated server hosting. It reduces the risk of threats as your server is isolated from others.
Easy Customization 
Custom applications can run on your server with a custom environment. You don't have to worry about the running of web applications.
100% Dedicated Server Resources 
You get 100% dedicated hardware resources with a completely isolated environment. Meaning there is no sharing of resources and no virtualization. 
No Setup Fees and Contract Charges 
MilesWeb does not take any charges for setting up your server. Also, they don't take any penalty or cancellation charges from you.
MilesWeb's Dedicated Server Hosting Plans & Pricing
According to your requirements, you can choose the dedicated server hosting plan. They have sixteen dedicated server plans.
Currently, they have upgraded their dedicated server plans, where you get the latest generation of Intel CPU processors, high RAM, storage and bandwidth.
MilesWeb offers cheap dedicated server hosting in India. About the pricing, their base plan of dedicated hosting E5-2609 2.4GZ costs around Rs.6,999/mo. And the high-end plan, 2* E5-2673 v4 3.3GHz starts at Rs.46,999/mo.
They are among the few hosting providers that offer cheap dedicated server hosting plans. MilesWeb also offers best web hosting Australia and in rest of the globe.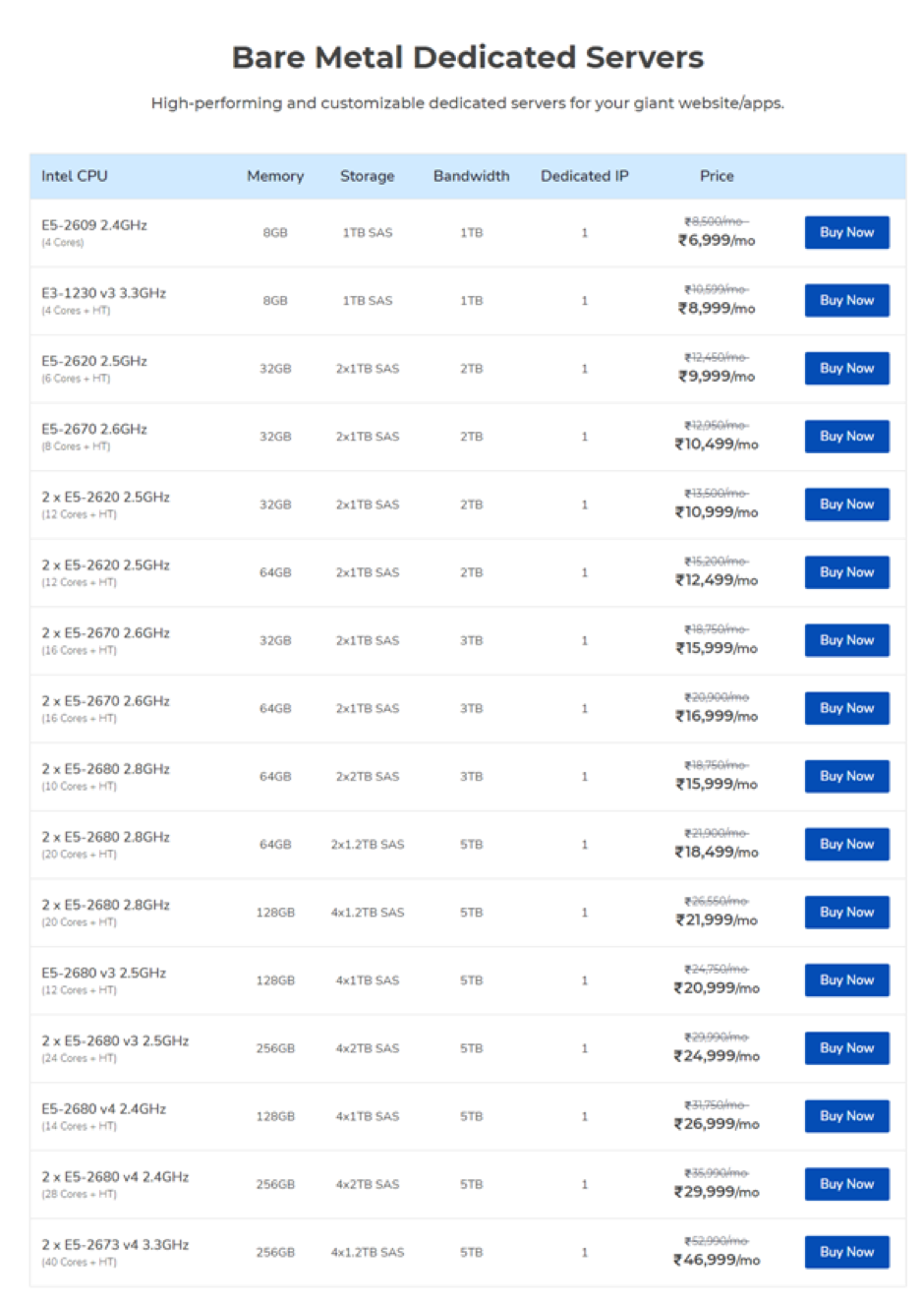 You can refer to the above image for the resources you get with each plan.
Conclusion
MilesWeb offers best-in-class dedicated server hosting. With each plan, you get a 99.99% uptime Service Level Agreement, data center in India, full server control and all the best features to make your large website run hassle-free. Also, on their Black Friday deal, you can get a control panel for free. Register for the best dedicated server plans today!